Regular price
$199.99 USD
Regular price
Sale price
$199.99 USD
Unit price
per
Sale
Pre order
PRE-ORDER NOW - Shipping January 11th 2024
FRY-GAME ON POINT: 1500W - 400F Degrees Halogen Heater with engineered vortex convection for crispy even results.

RINSE. DRY. THEN FRY: Self cleaning glass bowl

IT'S FRYDAY EVERYDAY:  Fritaire comes with three cooking accessories to help you create your favorite dishes. The rotisserie, the french tumbler, and the air.
HEALTHIER COOKING: Teflon free, Plastic free, Phthalate free, BPA free
6 ONE-TOUCH COOKING FUNCTIONS: Steak, Chicken, Seafood, French Fries, Bake, De-hydrate
WHATS IN THE BOX:  Fritaire, Accessories, Rotisserie Motor
SKU: Fritaire-01-BL
Share
View full details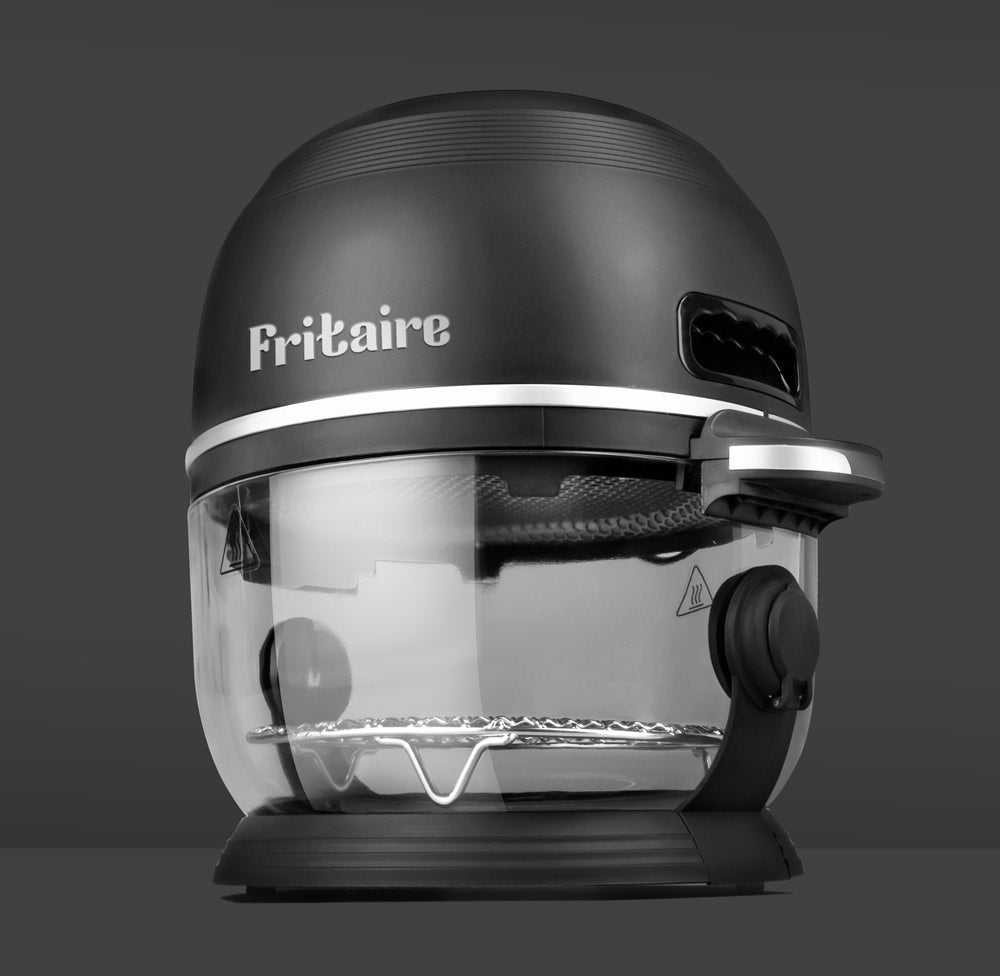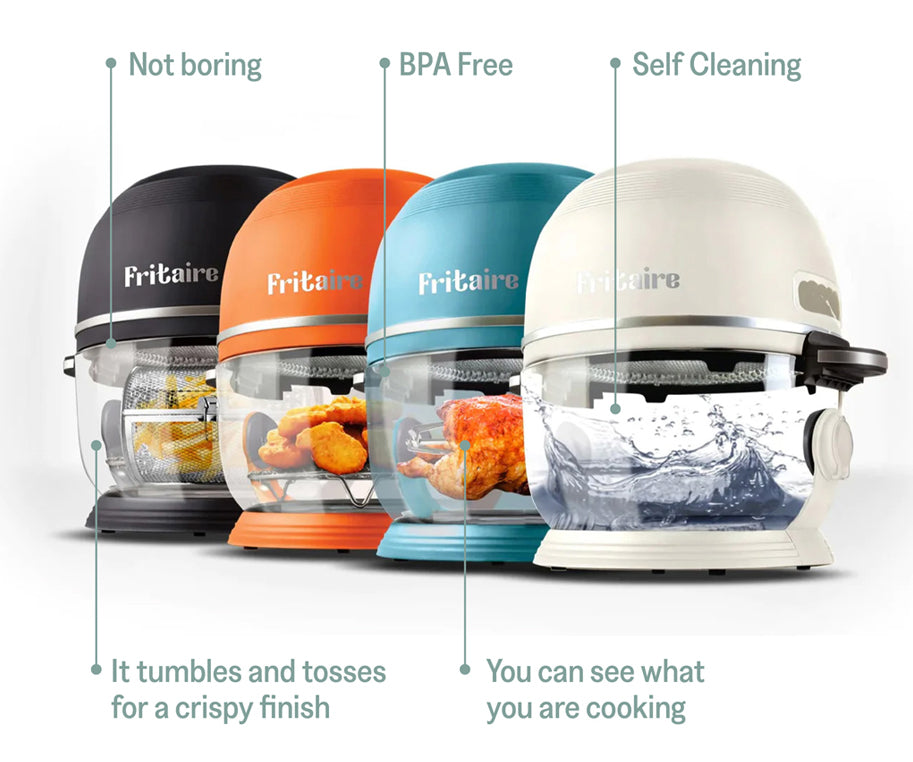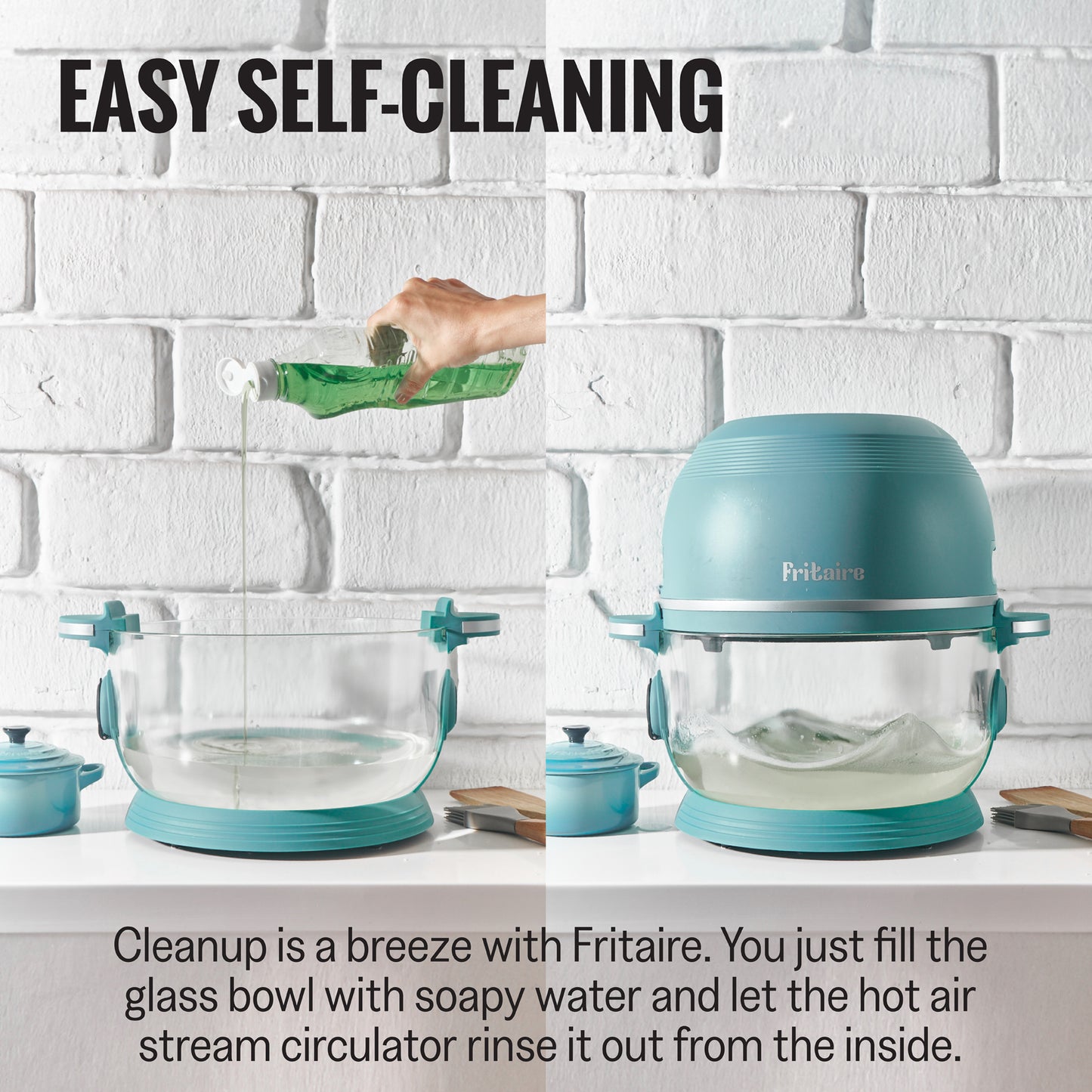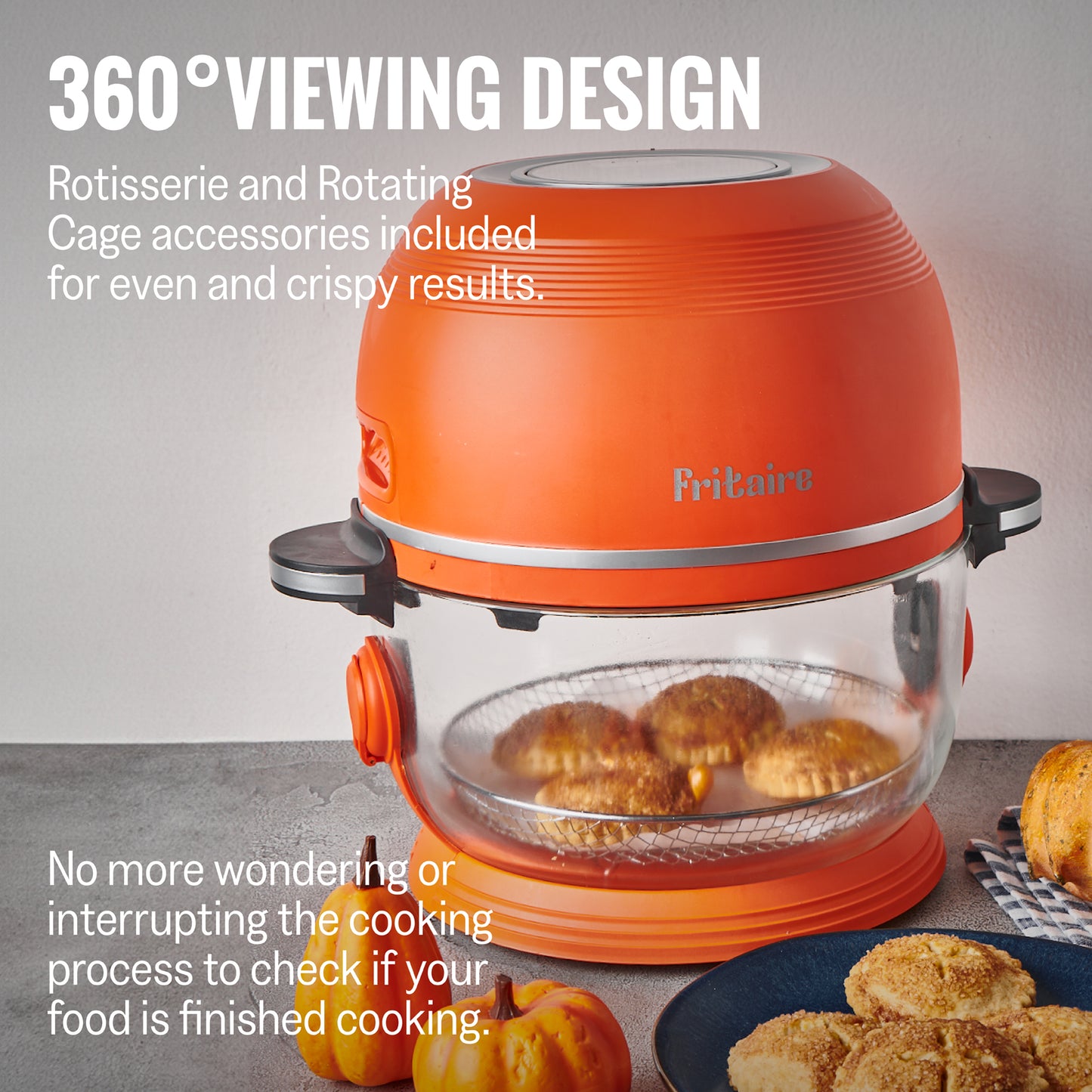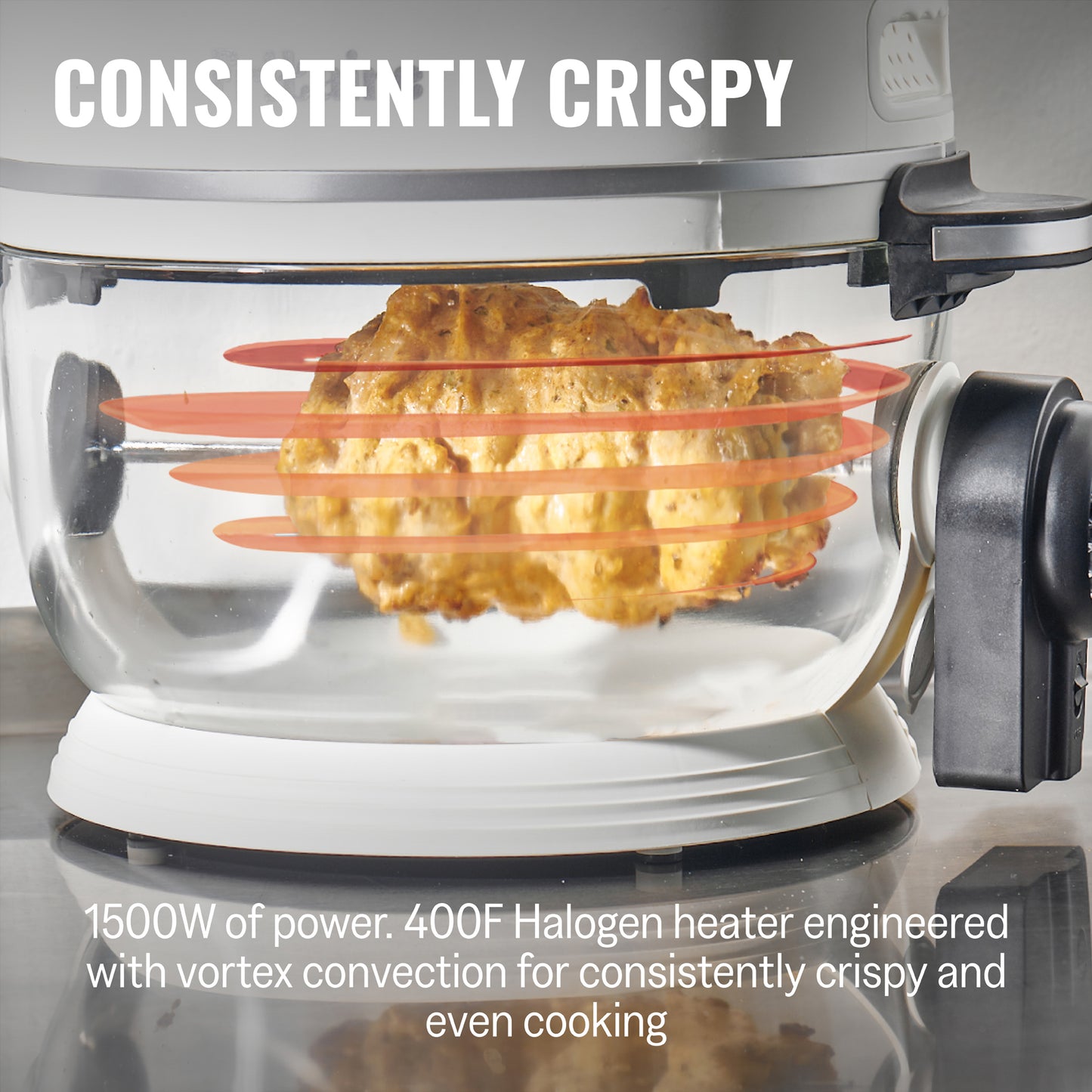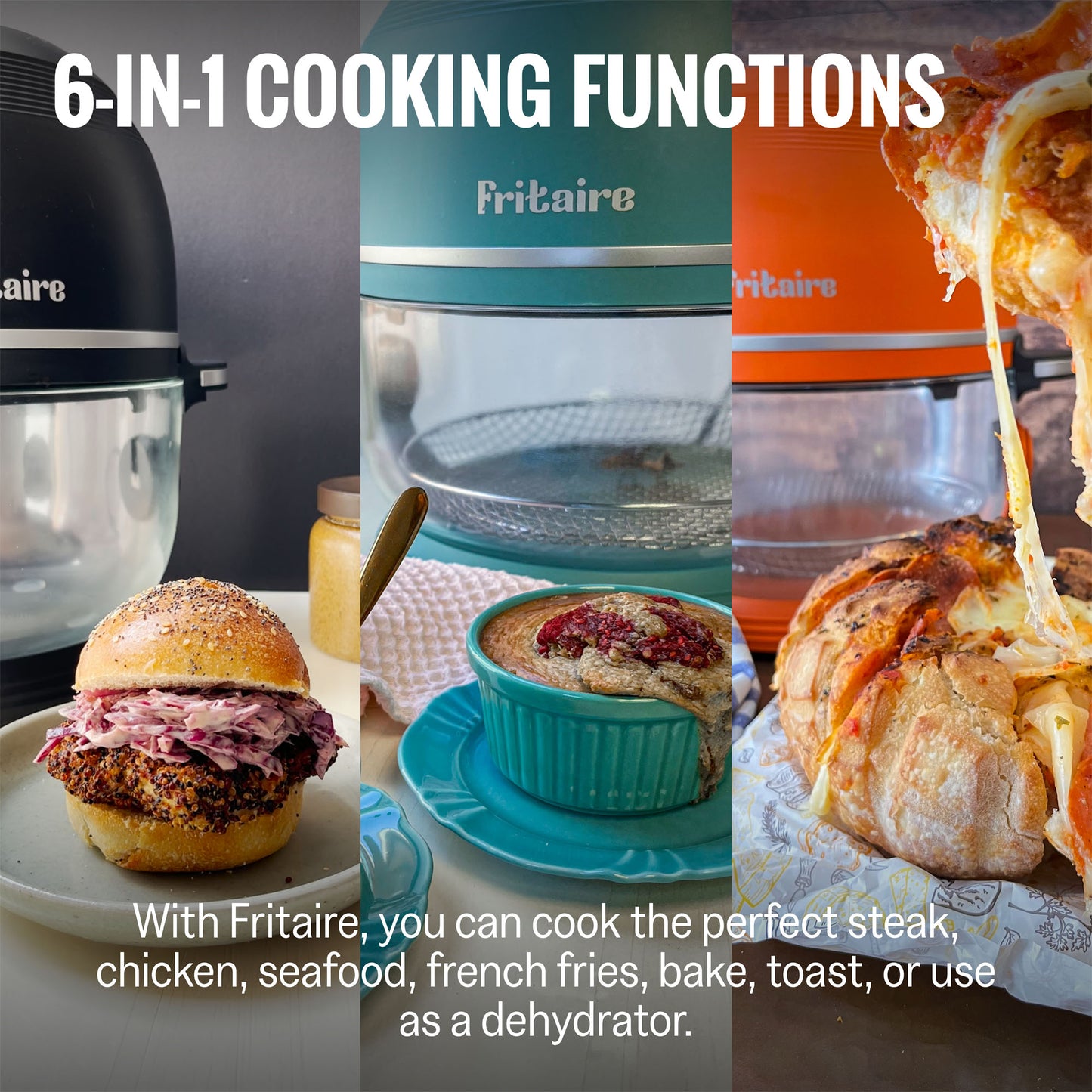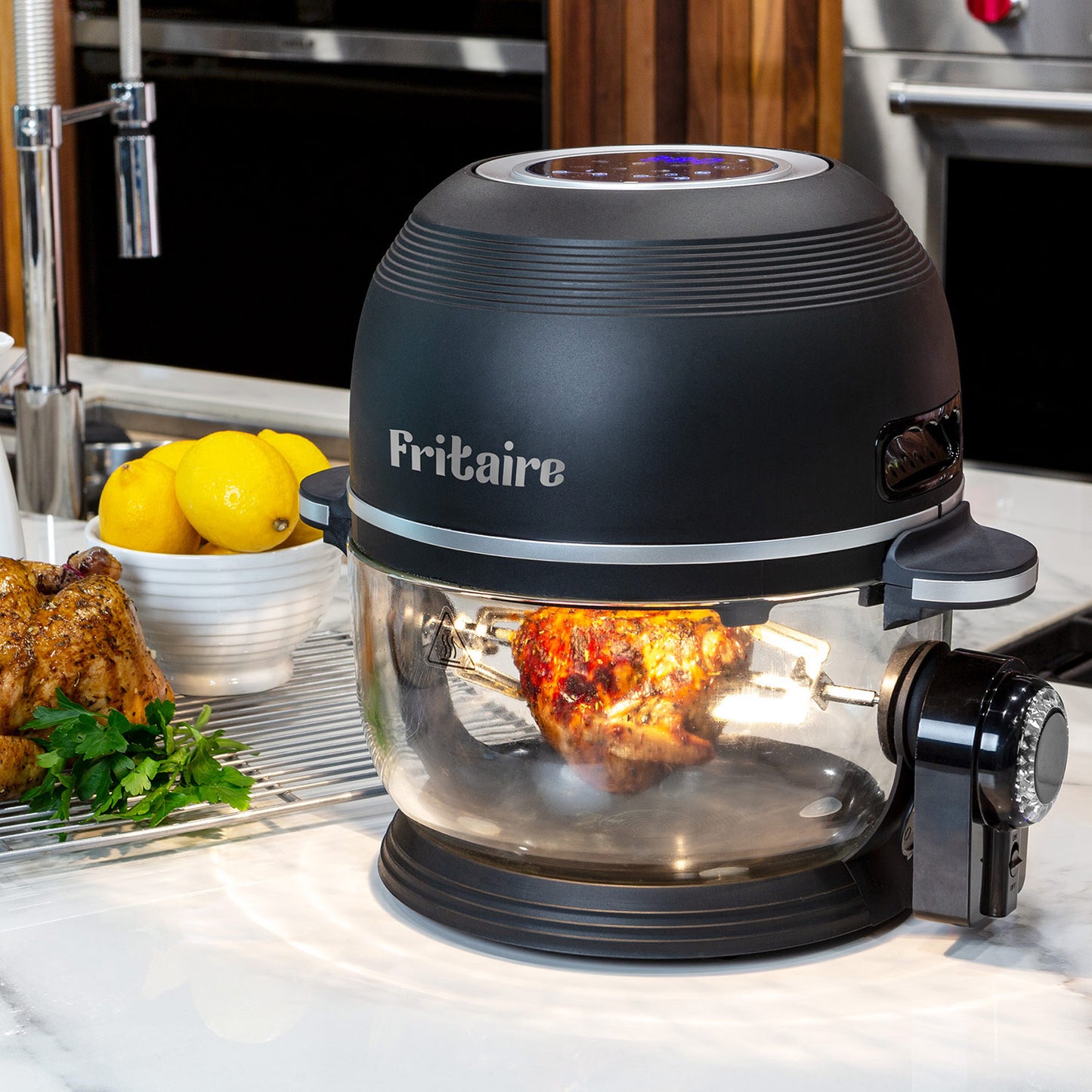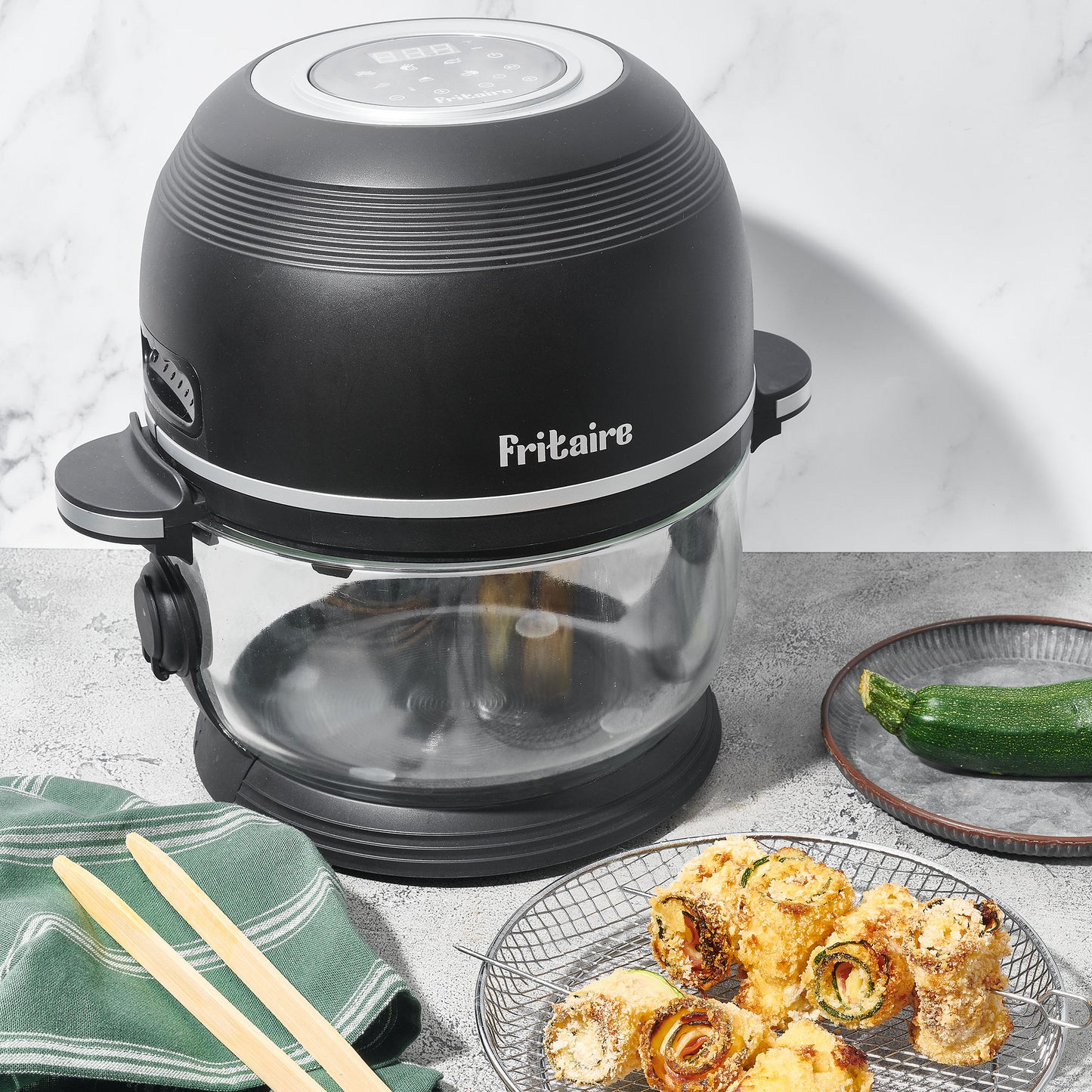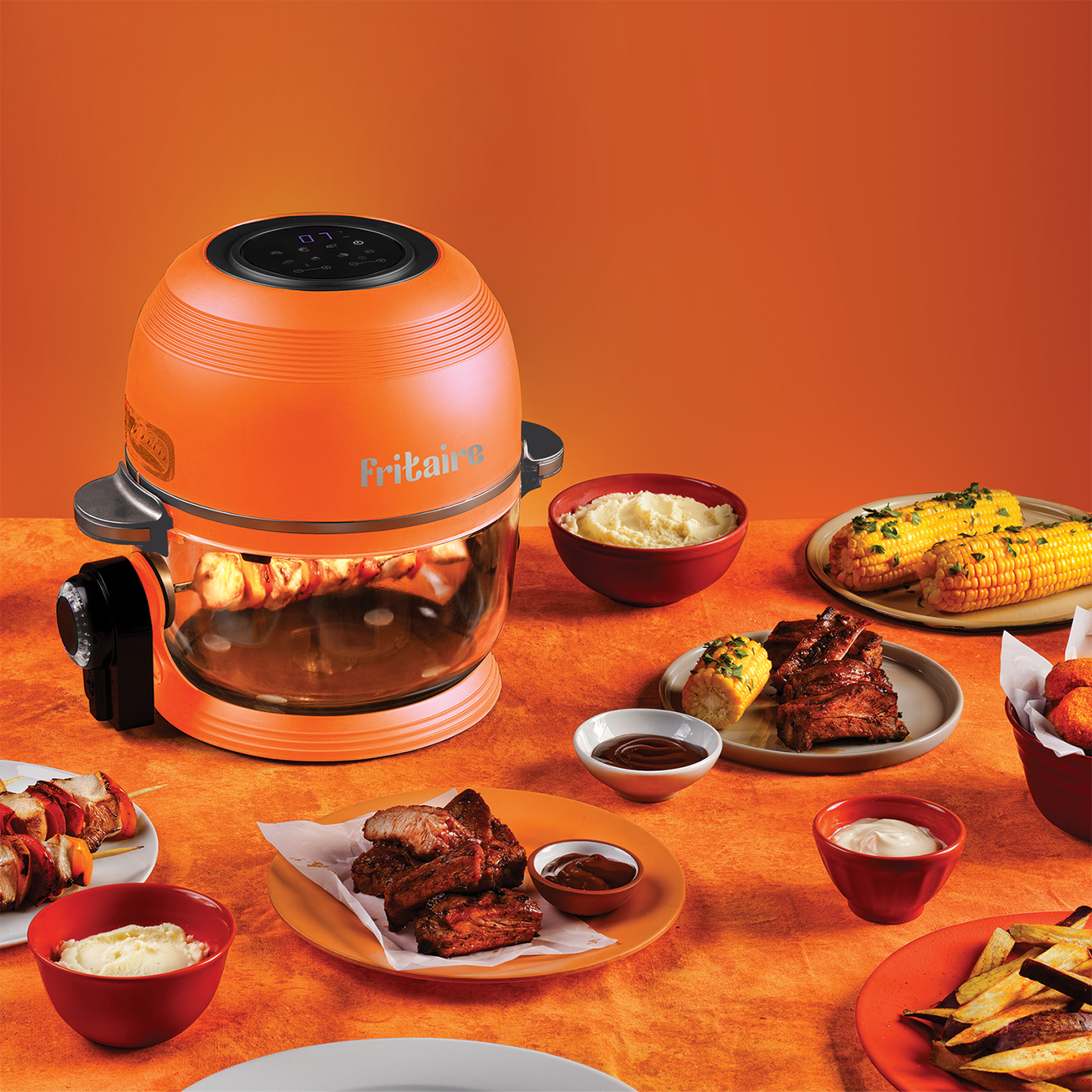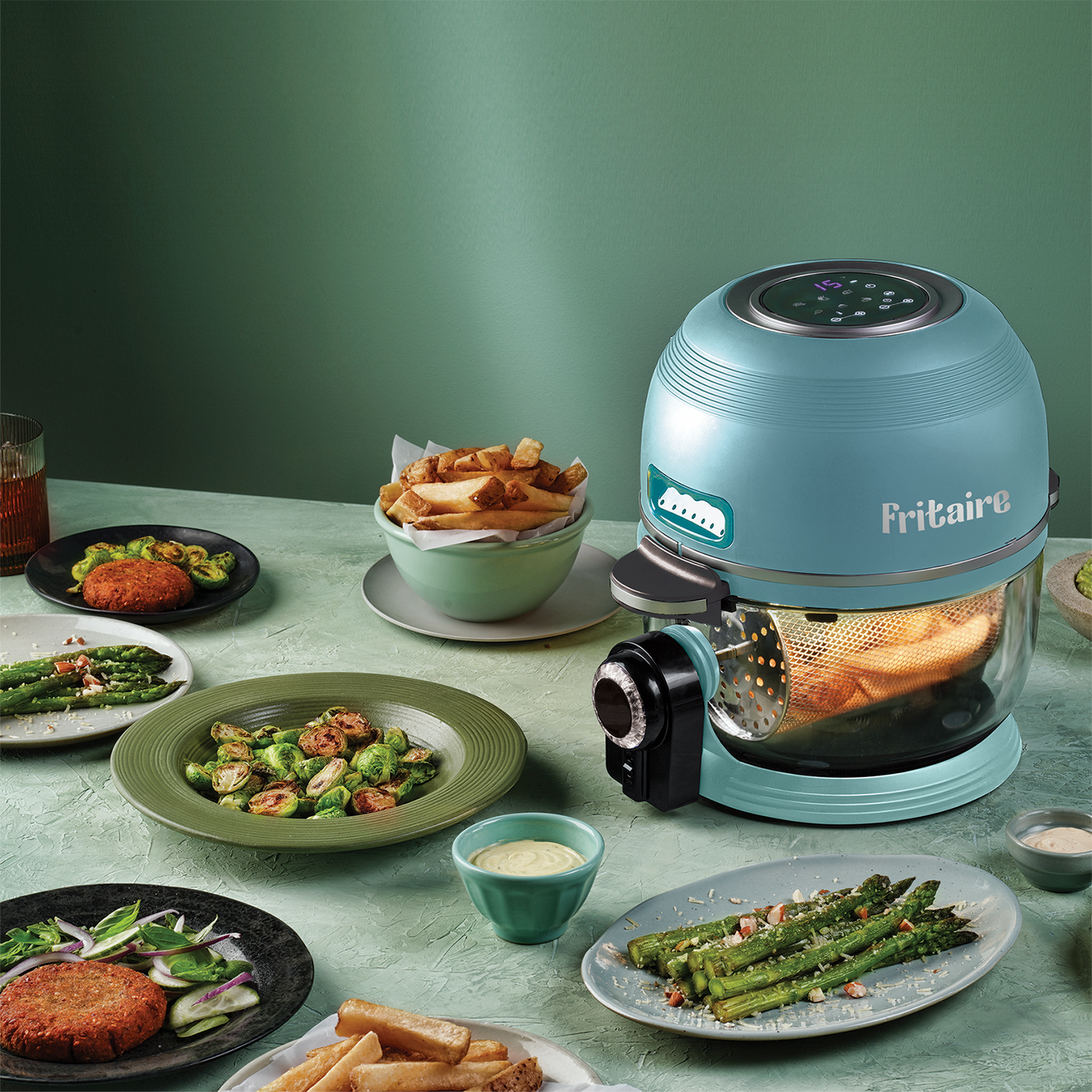 Collapsible content
HOW TO USE

1.
Remove Top Burner Lid and place food in cooking basket,
tumbler, or rotisserie inside the glass bowl.

2.
Select any of the cooking pre-set buttons and start cooking.
Watch your culinary creations turned into perfectly crispy cooked goodness.

3.
Cleaning made easy. Just fill the glass bowl with soapy
water, press the start button and let the hot air stream circulator rinse it out from the inside.
SHIPPING INFORMATION

Our orders are shipped and delivered on business days (Monday through Friday, excluding major holidays. Expect 1-2 business days for processing). We use a variety of standard shipping carriers. We kindly ask that you anticipate 3-5 business days for standard shipping. Standard Shipping Charges apply.

Orders to Alaska, Hawaii, and the US Virgin Islands take 2-3 weeks. Please select the shipping option that best suits your delivery needs during "Checkout."

We use a variety of express shipping carrier that do not deliver on Saturday or Sunday nor do they deliver to Post Office boxes. APO and PO Boxes will be shipped via Smartpost Standard shipping charges.
30 DAY MONEY BACK GURANTEE

If you purchase a Fritaire Product from Fritaire.com you may return the Product within thirty (30) days of the date of purchase from Fritaire and receive a full refund. Please click on the customer support link to receive a return label via email: support@thefutureproducts.com

For questions relating to a product return, refund or credit, please e-mail us at support@thefutureproducts.com.

The Effective Date of this Policy is August 1, 2022
WARRANTY POLICY

Fritaire offers a ninety (90) day limited warranty ("Warranty") on the Fritaire Product. This Warranty is valid and enforceable only if you purchased a new Fritaire Product from us and the Fritaire Product was originally sold to you in its original, sealed packaging.

Fritaire Product purchases are subject to this Warranty and our Terms of Use. Do not purchase or make use of a Fritaire Product until you have read the terms of this. Warranty and our Terms of Use. Here is a link to our Terms of

Read: Terms Of Use - link

Please also review the Fritaire Product instructions before using a Fritaire Product.

This Warranty is your exclusive remedy for defective workmanship or materials in your Fritaire Product. Fritaire warrants that the hardware will be free from manufacturing defects and, under its intended and ordinary consumer use, will function substantially in accordance with Fritaire technical specifications or documentation for a period of ninety (90) days from the date your Fritaire Product was purchased by you (the "Warranty Period"). In no event will thefutureproducts, inc. be responsible for any consequential, incidental, exemplary, or special damages, arising from or relating to this Warranty or the Fritaire Product,
and thefutureproducts, inc. total cumulative liability arising from or related to this Warranty or the Fritaire Product will not exceed the amount actually paid for the Fritaire Product by you (unless such limitation is otherwise prohibited by law).
Easy to Use and Clean
The customer service at Fritaire was wonderful. The first Fritaire air fryer was defective, it gave off a chemical smell. I contacted Fritaire customer service and they sent out another one. The 2nd air fryer didn't smell, but it didn't heat up either. I contacted them again and they sent out another one. The third air fryer works great. I love how easy it is to clean and I love how I can see the food get crispy. The food is delicious with my new air fryer. Fritaire was wonderful and they even gave me a credit back for my inconvenience.
Mesmerizing Cooking Process
The glass enclosure grants you a front-row seat to this culinary theater, where raw ingredients evolve into mouthwatering delicacies on aluminum wings.
I love it!
It has exceeded my expectations.
Me encanta, está muy chevere, util para cocinar, y optimiza muy bien junto con el tiempo de la casa
David
Me encanta, está muy chevere, util para cocinar, y optimiza muy bien junto con el tiempo de la casa
David
Me encanta, está muy chevere, util para cocinar, y optimiza muy bien junto con el tiempo de la casa
David